Christmas Decor Inc. is known nationwide for residential and commercial holiday decoration installation,maintenance and removal
As the premier holiday decorating and professional Christmas light installation company in North America, Christmas Decor Inc. provides our clients with captivating displays and exceptional service that are truly second to none. Now so more than ever, it is becoming increasingly difficult to find the time and energy to decorate your property and still have time to enjoy the holidays. That's where we come in… Christmas Decor holiday decorating professionals provide you with a beautiful design, an efficient installation, proactive in-season maintenance, and a timely post-season removal. We are a true end-to-end holiday decorating service. Our superior training, unique installation methods, and proprietary premium quality products allow us to handle both residential decorating and commercial decorating with ease. We are in tune with the latest trends in decorating to make sure your property is it's holiday best. Your wishes and ideas are always welcomed into the design process as they are vital to making your holiday dreams a reality.
Discover all that Aquapool's Christmas Decor has to offer. We look forward to showing you why so many home and business owners turn to us for their holiday decorating needs during the most wonderful time of the year. To get started, please use our find a decorator tool to locate your local holiday decorating professional and then let us provide you with an exceptional holiday design without the hassle. Call us Today and Experience the Magic this Holiday Season!
Professionalism
As the premier holiday and event decorating company in North America, Christmas Decor professionals are well recognized as the "Go-to" Holiday Decorating experts in the all of the 300+ markets we serve. We evaluate and map residents' property, listen to their desires, and create holiday lighting and decorating plans that accentuate the unique features of their home and its landscaping. Our professionalism is truly second to none and our decorators are well versed in the requirements of a world class holiday installation.
Extensive Design Training
Comprehensive Electrical Instruction
Precise installation Methods and Techniques
Annual Continuing Education
Thorough Ladder & Roof Safety
Strict Electrical Safety Measures
Courteous, Uniformed Crews
Completely Insured
More Than 300 Franchise locations in North America
Localized Service With National Support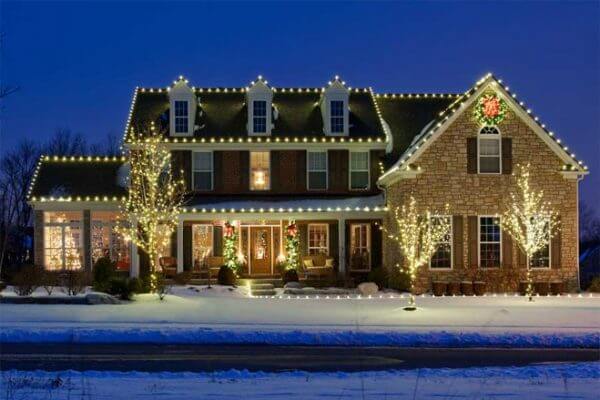 Residential Decorating
For over 20 years Christmas Decor holiday decorating professionals have been the best at their craft. While other firms may dabble in holiday decorating, Christmas Decor's professional installation crews are the recognized professionals in the industry. We provide the full spectrum of decorating options:
Complete Design ~ Full Installation
In-Season Service ~ Timely Takedown
As the true pioneers of the holiday and event decorating industry, we have developed a client friendly approach which provides you a variety of decorating options for your home or business. We will work with you to create a knockout design that enhances your property's best features. We will take all the necessary steps to ensure that your holiday display is installed correctly and then we'll check in to maintain the integrity of the design throughout the season. There is no limit on how you can show your Christmas spirit and Christmas Decor makes it easier than ever to enjoy your holidays with your friends and family.
Commercial Decorating
Christmas Decor holiday decorating professionals are trained to be the very best at their craft. This includes the design and installation of commercial properties. When you use Christmas Decor for holiday lighting and decorating services, you can be sure that your holiday lighting decorations are installed by professionals in the safest and most efficient manner possible. Our professionals will install our premium quality lights and greenery that will keep your holiday crowds warm, fuzzy, and shopping. From mom and pop stores to entire malls our decorators have the proper knowledge and design skills to get the job done right. Find your local decorator today and let your business SHINE!
Frequently Asked Questions
Q: How many years have you been designing and installing Christmas lights?
A: Christmas Decor has been decorating since 1986, and franchising since 1996.
Q: How many homes have you decorated and in what areas?
A: We currently serve more than 40,000 customers in 48 states and Canada.
Q: Does Christmas Decor carry liability insurance specifically designed for Christmas decorating?
A: Christmas Decor franchises are trained, insured professionals.
Q: How much will it cost us to have our decorations installed and taken down?
A: Each installation is customized to the property—so the customer can invest as much—or as little—as they want. Each proposal is presented with a number of options and we will help you build your decorating package over time.
Q: Do we rent the decor, lease it or do we own it?
A: All decor is included in the service package. With Christmas Decor's Service One program, you'll never own old, worn-out decor again! With our program, decor is automatically replaced when it needs to be – and you will have the flexibility to change colors upon renewal!
Q: Is there an extra cost to store our lights for next year?
A: The new Christmas Decor program is all-inclusive—one price for everything.
Q: Is there an extra cost to store our lights for next year?
A: The new Christmas Decor program is all-inclusive—one price for everything.
Q: Is there a labor warranty just in case the lights stop working or there is a problem?
A: With Christmas Decor's Service One program, maintenance is included in the price. We will also conduct proactive service visits throughout the holiday season to make sure your program looks like it did the day we installed it.
Q: Is there a difference between your lights and the ones I can buy at my local retailer?
A: Absolutely! Our decor is manufactured to our specifications—longer-life bulbs and extra fullness on all of our greenery. We also feature UL-rated, outdoor extension cords, a variety of property-friendly installation accessories and commercial-grade specialty décor. You won't find better quality anywhere!
Q: Will you install lights that we already own and can you store them as well?
A: No, we cannot warranty the quality or workmanship of lights we do not provide
Q: Will we need to hire an electrician?
A: In most cases, no. But with larger installations, additional power sources may be needed.
Q: Do we need to be home for the installation?
A: Not for exterior installations. Our trained installation crews are efficient and can complete your installation regardless of your availability.
Q: Who do we contact for service should there be a problem?
A: You will be provided with contact information for a service representative. We also provide proactive service calls during the season.
Q: How far in advance do we need to contact you to get a bid and have the work done?
A: Contact your local service provider as early as possible. The decorating season is short, and our schedules tend to fill up by mid-November.
Q: Can we determine the time that you take the decorations down?
A: Yes. A Christmas Decor representative will work with you to schedule a takedown appointment that is convenient for you.