At Aqua Pool we are especially excited for 2020 because it marks our 50th year of continuous operation as the premier inground gunite pool builder in Connecticut, Massachusetts and Rhode Island.
Ron Giannamore bought a pool from Aqua Pool in 1970, the company's first year of operation. Once the pool was completed, Ron decided to join the Aqua Pool team as a designer. Eventually, he became a partner and then 100-percent owner. After growing up with the company, Ron's son, Michael Giannamore, joined Aqua Pool full-time after earning a master's degree in education. Ron is now retired and Michael is running the company with his sister, Debbie Madden, and the company's long-time construction manager, Gregg Pruitt. We are excited to be building on the company's foundation and take Aqua Pool into its next 50 years.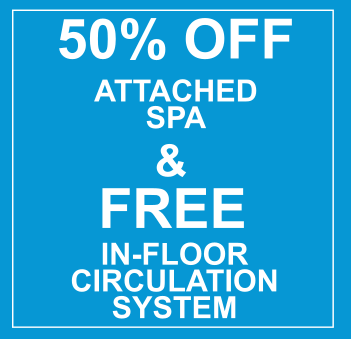 To celebrate our 50th year in operation, here's what we are offering if you sign with us by April 1, 2020 NOW EXTENDED TO Sept. 1: 50 percent off an attached spa and a FREE pool in-floor circulation system. That's a total estimated value of more than $7,000!
Amidst the uncertainty of this unique time, we understand the rightful caution that those shopping for a new pool are experiencing; we have ourselves revised our pool construction process with the health and safety of our team members in mind. Therefore, we have decided to extend our 50th Anniversary Sale through the summer (ending September 1, 2020). We have also revised our deposit policy. Now, you can put down as little as 5 percent of the cost of the pool and we'll begin the design process, including the creation of blueprints, applying for permits and preparing for pre-construction meetings. If at any time prior to the pre-construction meeting, you can cancel your project for ANY reason and receive a full refund of your deposit (minus permit fees only).
What can we say? Being in business for 50 years has made us feel generous! Please contact us if you'd like to take us up on this special offer. And be sure to check our a pool financing page to learn how you can have a $45,000 for as little as $350 per month!
Let's start planning the pool of your dreams!